An Experienced Tucson Law Firm
TUCSON TRUCK ACCIDENT LAWYER
Tactical Solutions for Your Unique Personal Injury
Sharing the roadways with commercial vehicles is an everyday occurrence, but tractor-trailers pose a serious threat to anyone traveling in a regular-sized vehicle. Commercial truck collisions often have devastating consequences, and an experienced truck accident lawyer Tucson should be contacted immediately. Commercial truck drivers and trucking companies are subject to federal guidelines meant to protect the public. When those laws are violated by a driver, anyone who encounters their truck while traveling is placed at a greater risk.
Semi-trailers are often fully-loaded and weigh as much as 80,000 pounds. It's easy to see why a crash with a regular-sized vehicle weighing approximately 4,000 pounds is often deadly. If you or a loved one have been involved in a collision with a commercial truck, schedule a consultation with the legal experts at BBerry Law Offices without delay.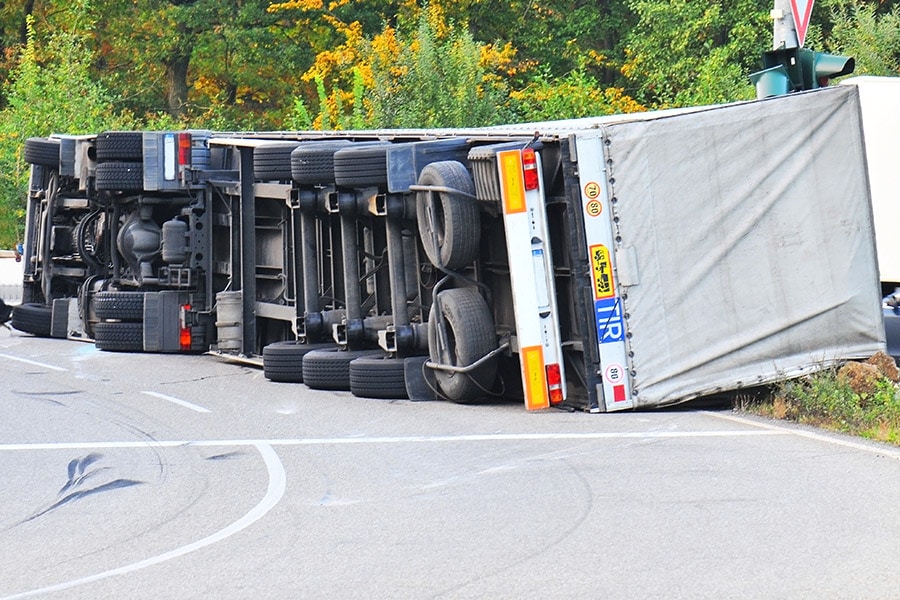 Are You a Truck Accident Victim?
Are you trying to cope with lost income, expensive medical bills, and/or the death of a loved one after a serious crash with a commercial vehicle? A truck accident lawyer Tucson with experience can help. The details of your case will be investigated so that we can seek compensation that may be available to you. It is crucial to seek help from an attorney as soon as you can. 
Commercial trucking companies are required to meet standards provided by the Federal Motor Carrier Safety Administration (FMCSA) for the protection and safety of all drivers and passengers. The following are examples of the types of cases that can be filed against truck drivers and/or the companies that hired them, with details to follow:
Employer Negligence

Mechanical Malfunction

Truck Driver Error
Commercial Truck Employer Negligence
Safety standards must be rigorously met by trucking companies to avoid death and injury of other drivers on our roads. Accidents happen due to employer negligence related to the following issues and more:
Inadequate hiring standards

Poorly maintained commercial vehicles

Deficiencies in employee training
One of the most serious matters that the FMCSA regulates involves the amount of time a driver can be on the road. When drivers are pushed to meet deadlines and end up driving with an inadequate amount of sleep, the danger to others on the roads is intensified. Driving while drowsy and while falling asleep at the wheel are comparable to the devastation caused by drunk driving.
With the amount of weight commercial trucks carry, it is essential that all of their engine parts and other components are maintained regularly and in good working condition. Any of the following issues plus many others can cause collisions resulting in a need for a truck accident lawyer Tucson.
Defective Engine
If a truck's transmission or engine suddenly malfunctions while on the road, the driver could suddenly lose control of the 18-wheeler or the truck could stop suddenly, endangering other drivers and their passengers.
Tire Defects
Tires on 18-wheelers are often subjected to heavy use, and they are prone to wear out quickly. If tires are underinflated or incorrectly mounted, installed, or weighed, there is a much greater risk that the driver will lose control of the truck, resulting in an accident.
Malfunction of Brakes
Brakes on a commercial truck play an important role in avoiding hazardous collisions. Even when brakes are in good condition, the distance to stop a big rig is already much further than it is to stop a regular-sized vehicle. The danger is greatly increased if brake failure occurs because of defective brake lines, pedals, cylinders, or pads.
Failure of Underride Protection
Trucks are required to have underride guards to prevent cars from becoming jammed underneath an 18-wheeler's front or rear end in an accident. Malfunction of underride protection can greatly endanger drivers and passengers in cars.
Commercial Truck Driver Negligence
When the driver of a vehicle weighing up to 80,000 pounds behaves in a negligent manner, other drivers can be seriously injured or killed. The following are a few examples of negligence truck drivers may be guilty of in connection with a crash:
Driving aggressively, which may involve speeding, passing another vehicle when it's unsafe, cutting off passenger vehicles, and tailgating.

Abusing alcohol or drugs while driving.

Logging more hours than allowed by law in Arizona and, therefore, driving while overly sleepy.

Texting while driving a big rig.

Maintaining a high rate of speed in poor road conditions.

Driving while distracted, such as eating or shuffling through CDs.
Contact a Truck Accident Lawyer in Tucson
Contact BBerry Law Offices for a consultation regarding an accident with a commercial truck. The sooner we hear from you the better so that we can determine whether there is a viable claim you can bring against the commercial truck driver and/or the company that hired him or her. Our experienced investigators would need to gather evidence about the specifics of the accident. We have the expertise to properly handle the legal processes and paperwork involved with a claim. Call us today at (520) 347-8484 and we will provide insights on the compensation you may be entitled to according to Arizona law.
REQUEST YOUR ONE ON ONE CONSULTATION
Simply provide us with some details and we will contact you as soon as we can